👑AdKings Agency is looking for a Head of Facebook Advertising & eCommerce Performance. You've to be extremely ambitious in driving tremendous results, a true leader setting an example for the team, and love challenges.

*This is a COMPLETELY REMOTE position so we hire worldwide, but it would be best if you are around the European timezone, as the majority of the team is located around this continent.
What You Will Be Doing
Lead agency's performance division growth direction & shape business future in this fast-paced, ever-evolving environment.
Take the leadership role and do everything that's needed to grow our eCommerce clients from 7 & 8 figures to multiple 8 figures. Whatever that's solving problems, working on funnels, CRO, offers, etc.
Ensure clients satisfaction with our services & results we bring with our advertising and services.
Coach Senior & Junior Ad Buyers and drive Facebook Ads growth for all of our clients, hitting $5 000, $20 000, and $50 000 profitable daily ad spends.
Driving internal agency's Facebook Ads skills growth creating and systemizing ad buying methods.
Identify and execute on innovations that could help to reach breakthroughs in results by optimizing offers, product range, sales channels, funnel, website, ad copy, creative, etc.
Leading experimentation of new channels & strategies. Explore possible directions for the agency's future evolution.
Further developing internal agency systems that support our results and ensure quality.
Manage a remote 8-20 individuals team, their work, and professional growth.
Giving feedback and optimize internal operations yourself like creating new structures or SOPs.
Helping to create, track and optimize main goals and KPIs for AdKings team and Client.
About You
You have worked in or with DTC eCommerce businesses selling products worldwide.
Experience with Facebook ads for at least 5 years and spending 300k-1MM/month or more per eCommerce project
You are fluent in English.
You have worked in fast-growing, international eCommerce businesses doing multiple 8-figures a year or an eCommerce marketing agency.
A natural Growth Hacker who is interested in challenges, effectiveness, finding new undiscovered ways.
You have worked remotely and managed a team of 4+ individuals before.
You're a full-stack eCommerce Growth specialist (either you owned an eCommerce yourself or worked on Email, CRO, Adwords, and have a good understanding of how they work.)
You are good at reading data, analyzing it, and creating data-based reports.
Self-learner personality and somebody who is able to adapt fast according to feedback.
A team player with high motivation, ambition, and a solution-oriented attitude.
A driven, proactive individual interested in self-improvement, reading books, consuming content, and aiming to become the better version of yourself.
🏄 You ask Why join us?
a) Be among A-level team members who love challenges, bringing results & never stop learning:
Every month we are spending over 1M on Facebook ads profitably
We recently scaled several brands from ±200K/month to $1M & $4M/MO
Most of the time we 2X or 3X our clients within 2-3 months
b) We value Next Level Team Experience:
Even by working remotely, we have a 5/5 rating on Glassdoor
Team Buddy system, bookclub, Wim Hof (and other) challenges, as well as best gifs and discussions happening on Slack
We have 2 team retreats per year to connect and catch up with each other (on-hold due to Covid 😭)
We have regular feedback forms, 1on1, and team calls, so we always listen to feedback from our team.
About AdKings Agency
We offer full eCommerce services needed for omnichannel funnels creation: Facebook and Instagram Ads, Adwords, Youtube Ads, Sales Funnels Creation, Emails and LTV Maximization, Conversion Rate Optimization, Average Cart Value Optimization and help eCommerce businesses grow their revenue worldwide.
AdKings is a small boutique team of close to 15 top-notch driven people. Now ready for our next stage of growth and planning to jump up to 20-25 people this year so we're looking for KEY individuals who could help us shape this agency and unleash its potential.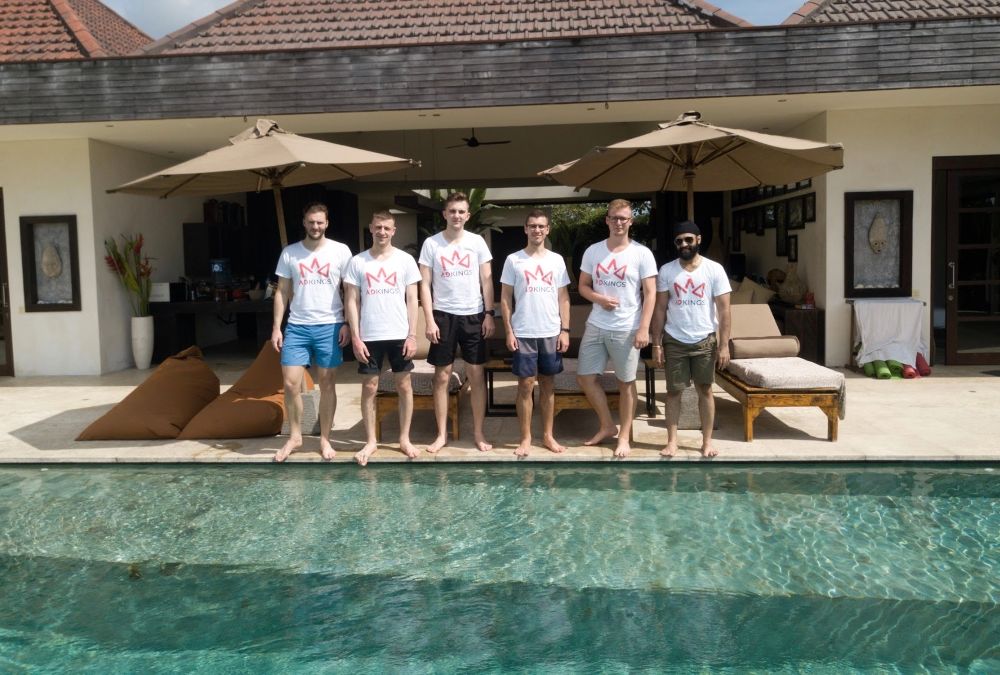 🚀 Ready to be a part of our team!? Hit that Apply button!