📽Experienced in Video Ads? AdKings Agency is looking for a kick-ass Video Editor to create videos for our clients' massive growth. If you are passionate about digital marketing and know, how to create videos that sell💰APPLY NOW, We need you!

*This is a COMPLETELY REMOTE position so we hire worldwide, but the priority is for candidates from Europe, or people willing to work in the European timezone.
What You Will Be Doing
Coming up with new creative video ideas, angles, and concepts on

different levels of awareness

Carry out in-depth Facebook

video ads trends and best-performing creatives research
Editing and assembling recorded raw material into a suitable, finished product ready for eCommerce products advertisements
About You
You are fluent in English (written & verbal)
(Very important!) Have experience in editing and familiar with the structure of DTC social media video ads
You have a good understanding of how to create an engaging storyline and scroll-stopping product ad videos
You are based in Europe or can work in a European timezone
You have a good availability & fast turn around period
Ability to use and edit with Premiere Pro, After Effects, Illustrator/Photoshop (it's a bonus if you can use other Adobe programs)
You know the requirements for Instagram, Facebook, and other placements

You are

organized & can meet deadlines reliably
A driven, proactive individual interested in self-improvement, reading books, consuming content, and aiming to become the better version of yourself



🏄 You ask Why join us?
a) Be among A-level team members who love challenges, bringing results & never stop learning:
Every month we are spending over 1M on Facebook ads profitably
We recently scaled several brands from ±200K/month to $1M & $4M/MO
Most of the time we 2X or 3X our clients within 2-3 months
b) We value Next Level Team Experience:
Even by working remotely, we have a 5/5 rating on Glassdoor
Team Buddy system, bookclub, Wim Hof (and other) challenges, as well as best gifs and discussions happening on Slack
We have 2 team retreats per year to connect and catch up with each other (on-hold due to Covid 😭)
We have regular feedback forms, 1on1, and team calls, so we always listen to feedback from the team.
About AdKings Agency
We offer full eCommerce services needed for omnichannel funnels creation: Facebook and Instagram Ads, Adwords, Youtube Ads, Sales Funnels Creation, Emails and LTV Maximization, Conversion Rate Optimization, Average Cart Value Optimization and help eCommerce businesses grow their revenue worldwide.
AdKings is a small boutique team of close to 15 top-notch driven people. Now ready for our next stage of growth and planning to jump up to 20-25 people this year so we're looking for KEY individuals who could help us shape this agency and unleash its potential.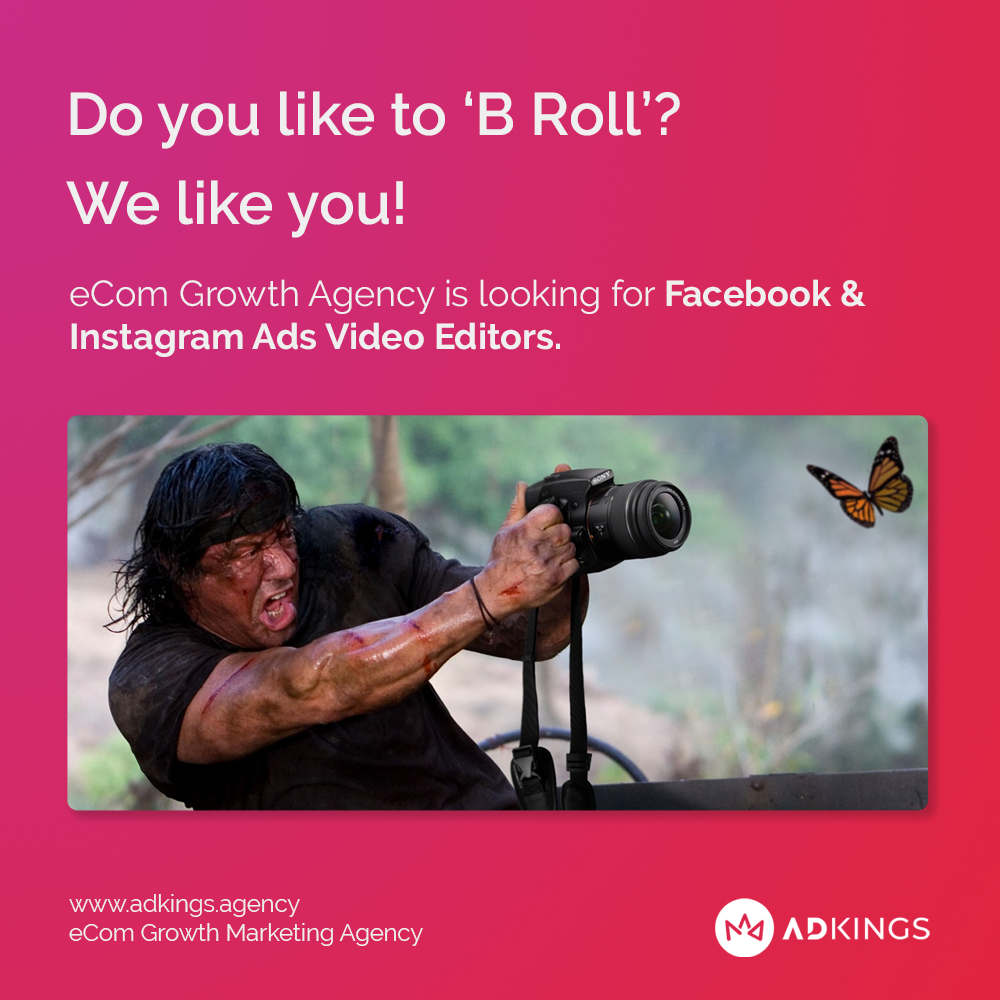 🚀 Ready to be a part of our team!? Hit that Apply button!