About the Role:
Experienced in Video Ads? AdKings Agency is looking for a kick-ass Video Editor to create videos for our clients' massive growth. If you are passionate about digital marketing and know, how to create videos that sell💰APPLY NOW, We need you!

*This is a COMPLETELY REMOTE position so we hire worldwide, but the priority is for candidates from Europe, or people willing to work in the European timezone.
Your Responsibilities and Tasks:
Manipulate and edit film pieces in a way that is invisible to the audience.
Take a brief to grasp production team's needs and specifications.
Review shooting script and raw material to create a shot decision list based on scenes' value and contribution to continuity.
Trim footage segments and put together the sequence of the film.
Input music, dialogues, graphics and effects.
Create rough and final cuts.
Ensure logical sequencing and smooth running.
Consult with stakeholders from production to post-production process.
Continuously discover and implement new editing technologies and industry's best practices to maximize efficiency.
About You:
2 years of experience as a video specialist or similar role with proven work experience as a Video Editor.
Solid experience with digital technology and editing software packages (e.g. Avid Media Composer, Lightworks, Premiere, After Effects and Final Cut)
Demonstrable video editing ability with a strong portfolio.
Thorough knowledge of timing, motivation and continuity.
Familiarity with special effects, 3D and compositing.
Creative mind, creative thinker, and storytelling skills.
Good time-management skills
Great interpersonal and communication skills
Knowledge and a good understanding of motion graphics is preferred.
Excellent/Fluent in English.
🏄 You ask Why join us?
a) Be among A-level team members who love challenges, bringing results & never stop learning:
Every month we are spending over 1M on Facebook ads profitably
We recently scaled several brands from ±200K/month to $1M & $4M/MO
Most of the time we 2X or 3X our clients within 2-3 months
b) We value Next Level Team Experience:
Even by working remotely, we have a 5/5 rating on Glassdoor
Team Buddy system, bookclub, Wim Hof (and other) challenges, as well as best gifs and discussions happening on Slack
We have 2 team retreats per year to connect and catch up with each other (on-hold due to Covid 😭)
We have regular feedback forms, 1on1, and team calls, so we always listen to feedback from the team.
About AdKings Agency
We offer full eCommerce services needed for omnichannel funnels creation: Facebook and Instagram Ads, Adwords, Youtube Ads, Sales Funnels Creation, Emails and LTV Maximization, Conversion Rate Optimization, Average Cart Value Optimization and help eCommerce businesses grow their revenue worldwide.
AdKings is a small boutique team of close to 15 top-notch driven people. Now ready for our next stage of growth and planning to jump up to 20-25 people this year so we're looking for KEY individuals who could help us shape this agency and unleash its potential.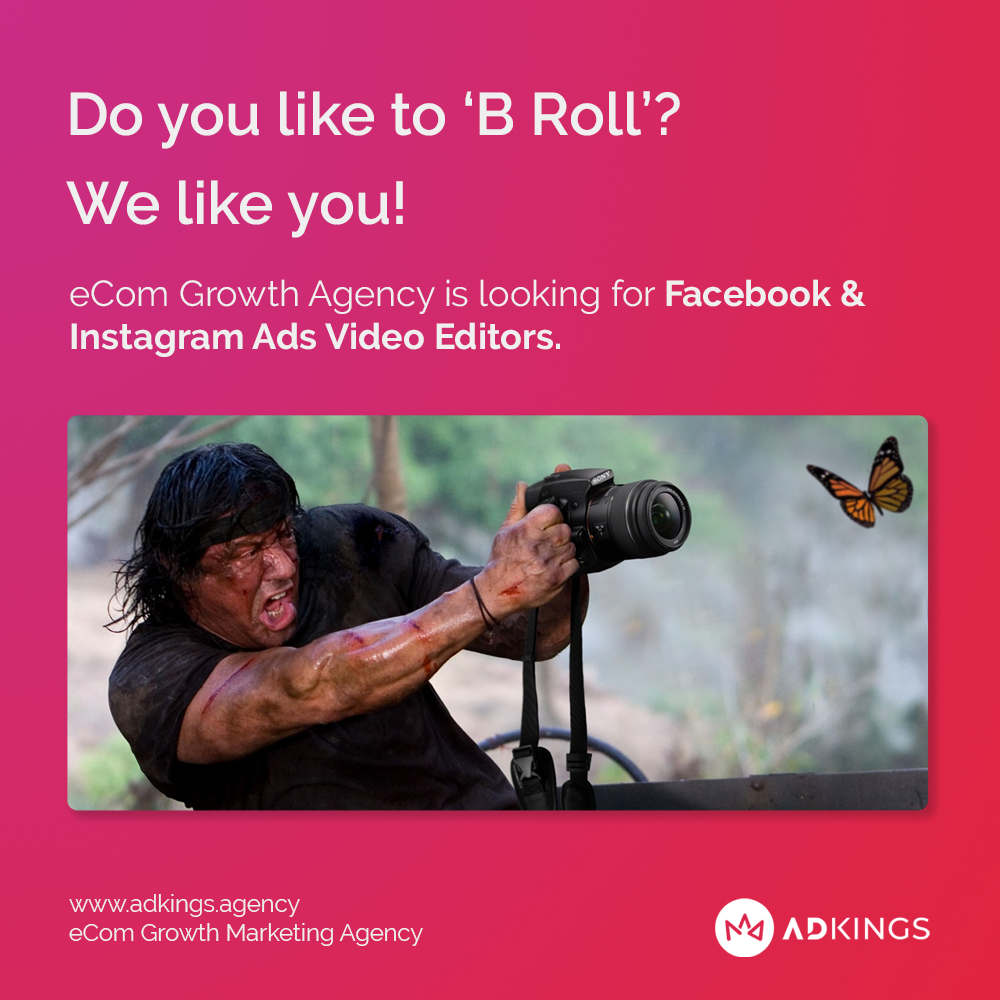 🚀 Ready to be a part of our team!? Hit that Apply button!